2020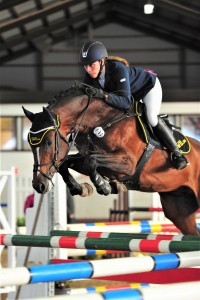 Johanna Wall competes with New Port-W 1314 in showjumping and we decide that New Port-W 1314 shall not be sent again for an other rider for competion riding. The breeding and the well beeing of the stallion comes first. The competition goal sets to 140  cm classes with aim to climb higher as the couples routine grows.
2019
Johanna Wall competes New Port-W 1314 in showjumping besides his breeding work. The couple achieves fifth place at the finals of Jönköping Rising Star Gold !
New Port-W first offspring New Morning SWB starts in her first 130 -class with her owner Saga Wahlman.
2018
February New Port-W is injured when doing eventing and he is moved back to Sweden to Johanna Wall for recovery and breeding.
At December New Port-W 1314 wins the second prize at Flyinge Rf Lätt A dressage championships.
New Port-W offsprings at Elmia Horse Show October 13th 2018:
Newton, 3yrs by  New Port-W – Heartbraker bred by Johanna Wall, sold at the auktion for 360 000 SEK.
New Hope SWB, 5yrs bred by Katri Wäyrynen, 4th in the finals of the 5 yr showjumping horses.
New Port-W and Elmo Jankari are chosen in to the  Riding Federation of Finlands Tokio 2020- project but is soon pulled off by the owner.
A colt and a filly were  born by New Port -W frozen semen in Finland. Breeder the threedayeventrider Sanna SIltakorpi.
2017
New Port-W became the second best eventing horse at the Finnish ranking ridden by Elmo Jankari (FIN). The couple has achieved following international prizes:
CCI** Le Pouget, France, 6th
CIC** Jardy, France, 24th
CIC** Baborowko, Poland, 4th
CCI* Barroca d´Alva, Portugal, 6th
CCI* Barroca d´Alva, Portugal, 5th
2016
For the breeding season 2016 New Port-W 1314 is  available through frozen semen. The semen can be ordered from Finland Ordenoja breeding station. www.ordenoja.fi
2015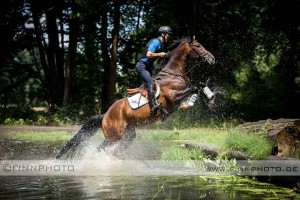 New Port-W 1314 is moved to Germany, Warendorf.
The pregnancy with fresh semen was very good.
New Port-W 1314 get a prize at the Skuryp Elite competition small (140cm) final.
New Port-W 1314 jumps clear the all way too the finals at the Champions of the Youngsters ( 135, 140 and 140 class).
7th of June New Port-W 1314 got a third prize in a national 140cm jumping class.
New Port-W, born 2008, by Chellanos Boy D Z – Caretino K – Rabiatos bred by Withold Wawrzyniak, Poland, is approved in SWB, polish half breed and wlkp.
2014
No Worries was approved for breeding by Springpferdezuchtverband Oldenburg e.V
New Port-W approved for breeding by the Polish Half- breed and wlkp.
Both stallions were approved for ASVH one-mare-licence in Sweden.
Two unborn foals lost. Both by World Cup Winner Flexible. One pregnant minishetlandpony lost.
2013
In the beginning of the year No Worries had great success with Fredrik Jönsson with a second prize in a 150-class at Stockholm.
Later the spring No worries was moved to Johanna Wall, where he could have a bit of a summer holiday. At the fall No Worries got a new rider, an Olympic medallist Peter Eriksson. The couple competed lower classes from 120 cm -to 145cm with good success.
New Port-W got six foals this year and they all show a good confirmation.
2012
No Worries had great success in the competitions and the first filly by our own stallion New Port-W (Chellanos Boy DZ – Caretino K) was born.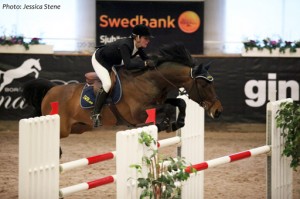 2011
No Worries was placed sixth in the Finals of Breeders Trophy Show Jumping. Because of major building project on our farm all the horses were moved elsewhere.
2010
Piia Pantsu and No Worries were chosen by the Finnish Breeding assosiation, Ratsujalostusliitto,  to attend the FEI World Breeding Jumping Championship for horses of 5-years of age.
20th May:
No Worries and Piia Pantsu at Vinslöv young horse classes jumping 120 cm. Two rounds, both without a pole down. Here you can see the second round of the day.
Garesse, No Worries, Finesse and Be Happy belong to the mare family KWPN 022, which is ranked to the FIFTH BEST mare family in breeding for Show Jumping in the World.
Published in the magazine Show Jumping.
2010
Our own breeding Stallion No Worries ( No Limit-Voltaire-GagXX)  was not approved at the ASVH stallion approvals. He qualified fast to the Falsterbo Horse Show and the Breeders Trophy. No Worries attended the Young Horse World Championships in Zangersheide. No Worries was placed third in the Finals of Breeders Trophy Show Jumping.
No Worries born 2005 (No Limit-Voltaire-Gagxx)
2009
3rd December 2009:
We welcome Therese Hansson as our employee.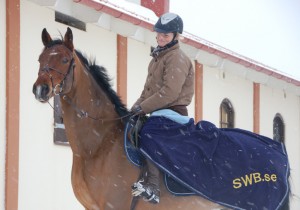 Therese Hansson with Leonardo.
Own breeding No Worries (No Limit – Vorlaire – Gagxx) wins the show-jumping at the Flyinge quality competition with 50 point No Worries was the best SWB horse at the Breeders Finals of show-jumping for 4yo.
I became approved ASVH  judge for conformation.
2008
Own breeding No Worries (No Limit – Voltaire – Gagxx) achieves a jumping diploma with 49 points and places third at the Breeders Finals with score of 9,7.
2007
Bachelor of Science major in Business Administration and Leadership.
2006
ASVH approved judge in gaits. Own breeding Waldfee (Davinci – D-Day – Welt As) achieves a diploma in gaits.
2005
Own Breeding Wald Hit ( Welt Hit II – D-Day – Welt AS) wins the Flyinge Foalchampionships.
2003
Competing the Arabian stallion Shalomon at international pleasure riding classes.
2001
Approved farm for working experience for students who want to apply to the Hippolog education.
1999
Own farm is built at Flyinge, Sweden. This web-site had its humble origins.
1998
Approved Three Day Event trainer in Sweden. Level C.
1997
Authorized professional sports coach in Finland. European level IV.
1996
Hippolog. A University degree from the Swedish University of Agriculture,
1995
National coach examination Finland. Moved to Sweden.
1994
52 nd at the Eventing World Championship in the Haag, 14th at Luhmülen
1993
Silver Medallist in the Nordic Eventing Championship
1990
Riding Instructor from Ypäjä, Finland. Silver Medallist in the Nordic and in the Finnish eventing Championship.
1989
The Champion of Finland in Three Day eventing.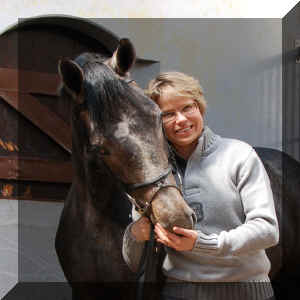 Waldelfe – Katri Wäyrynen