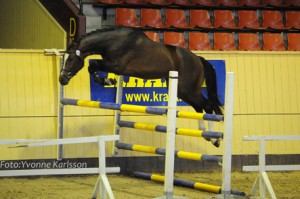 Approved stallion in Poland, in  SWB Sweden and FWB Finland.  Performance class **. Frozen semen available to all countries.
Born: 2008
Sex: stallion
Color: brown
Height: 166cm
Pedigree: Chellanos Boy D Z (Chellano Z – Quidam de Revel) – Caretino K (Caretino – Ahorn) – Rabiatos Z
Breeder Witold Wawrzyniak, Poland
Pedigree and results from Horsetelex.comAt the SWB stallion performance test New Port-W achieved 38 (88787)  for his conformation and in jumping he achieved 9 in everything with description"Good rhythm, good willingness to jump, supple horse which works through its whole body. Good action of the back, good technique both at the fore and hind legs. Fine line of jumping over the fence. Fast take-off. Good co-operation with the rider."The father of New Port -W, Chellanos boy DZ (Chellano – Quidam de Revel), has highly appreciated international bloodlines and he was among the top three stallions at his 100 -day test in Poland. He stamped his offspring with very good jumping technique and scope.Mare family of New Port -W starts with a high quality thoroughbred mare Novara xx from the famous thoroughbred stud farm in Golejewko . The mare family is characterized by its strength and competitive spirit. Thoroughbreds from this mare line are at their best at the longer distances and the steeplechase races and one offspring has attended the Olympic Games in three day eventing year 1988.New Port-W was imported to Sweden directly from his breeder as a 2 1/2 year old. At the  SWB three-year-old testing New Port-W achieved a show jumping diploma with 49  (8 8 7  8 9 9) points. In the finals of all Sweden he became on the ninth place. As a fife-year-old New Port-W was placed in the Breeders Trophy Open Finals of all Sweden ridden by Johanna Wall. As a six-year-old New Port-W became an approved  breeding stallion in Polish half Breed and wlkp studbook. He was also approved for one-mare-licence in Sweden with number 9099. Same year he attended the Falsterbo Open semifinals with Peter Eriksson and was  qualified to the Breeders Trophy Open Finals of all Sweden. He completed the finals with Jörgen Larsson.New Port-W has achieved a prize in 140cn jumping and  attended Falsterbo Horse Show 7yr Championships 2015.New Port-W 1314 is approved as  jumping stallion by SWB, wlkp, Polish halfbreed and FWB.

2017 he has achieved several international prizes at CIC/CCI* level and at CIC/CCI** level ridden by a finnish rider Elmo Jankari. Thanks to the international prizes was New Port-W placed second in the Finnish eventer ranking  and was chocen to the Finnish Tokio 2020- team.
New RatinaCaretino KCaretino
95070
Caletto II
First
Second
Third
Fourth
New Port-W

04084285

1314

Chellano's Boy D Z
Chellano Z
Contender
Calypso II
Gofine
Fayence
Cor de la Bryère
Soleil
Rokijly
Quidam de Revel (SF)

95036

Jalisco B (SF)
Dirka (SF)
Kokylly
Goodwill
Sakilly
Isidor
A-Zarinn J
Ahorn Z
Tirina
Nemezis
Rabiatos Z
Rabiat Z
Okowita
Novita xx
Demon Club xx
Novara xx